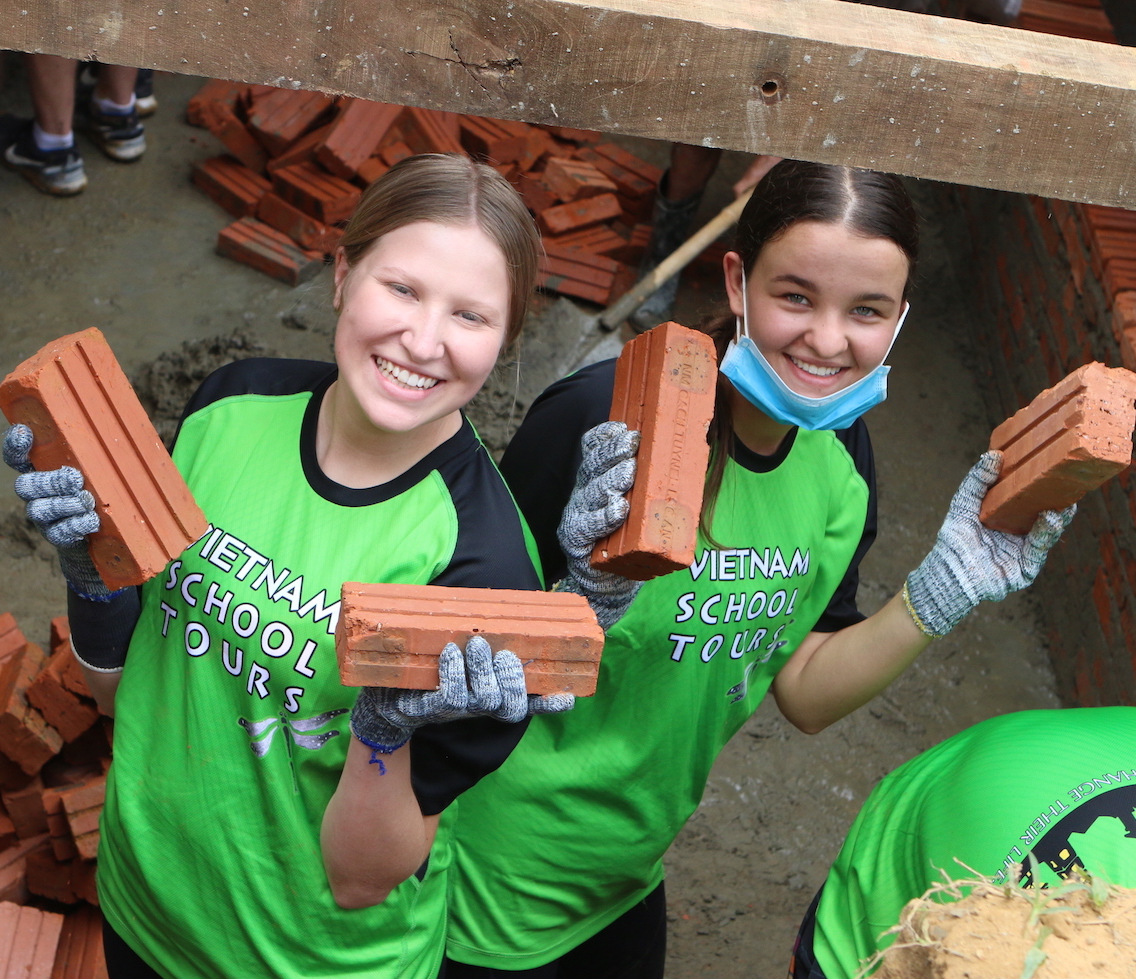 Grace S.
They opened my eyes to the true meaning of happiness.
Travelled to Vietnam October 2018
I can't thank Vietnam School Tours enough for allowing me to have this incredible experience. All of the time, effort and dedication was outstanding.
I loved coming to Vietnam, it wasn't just about going shopping or staying in hotels but about immersing myself in the culture. Eating the food (which I did alot of), listening to music, learning how to barter and most importantly experiencing first hand the lifestyle of the Vietnamese. It was such a touching experience being able to travel to two schools, we were able to see first hand the impacts of living in disadventaged areas. We weren't only able to teach those children but we were able to be taught by them. I only hope that our help and donations will help them to have a better future.

I especially learnt an important lesson in happiness, all of the children we visited were happy. No matter the situation, circumstance or outcome they always had a smile on their faces. It made me step back and think about my morals. What do I value most? Why do I value it? They opened my eyes to the true meaning of happiness.


I enjoyed every experience, although some days on the bus were longer then others I always felt excited about what would come next. The scenery in Vietnam is stunning. During our trek through the rice fields the enormity of rice production and consumption became very clear, it is amazing to think the whole country is based around one main product.
I loved every destination, whether it was the bustling city of Hanoi to the relaxed countryside of Hue. I loved Halong Bay and especially Hoi An. I studied the Vietnam War recently at school and it was great to find out new facts and relive some of the action whilst travelling through the Cu Chi tunnels. To be put in the situation the Vietnamese army were in would have been traumatic, but as they never gave up hope, their story is one that shows the strength of the people.
The history of Vietnam is complicated and filled with war and violence but it is also filled with hope and the belief that tomorrow is going to be a better day. I would recommend this trip to anyone who asked, I have had the experience of a lifetime. It really did open my eyes and change my life.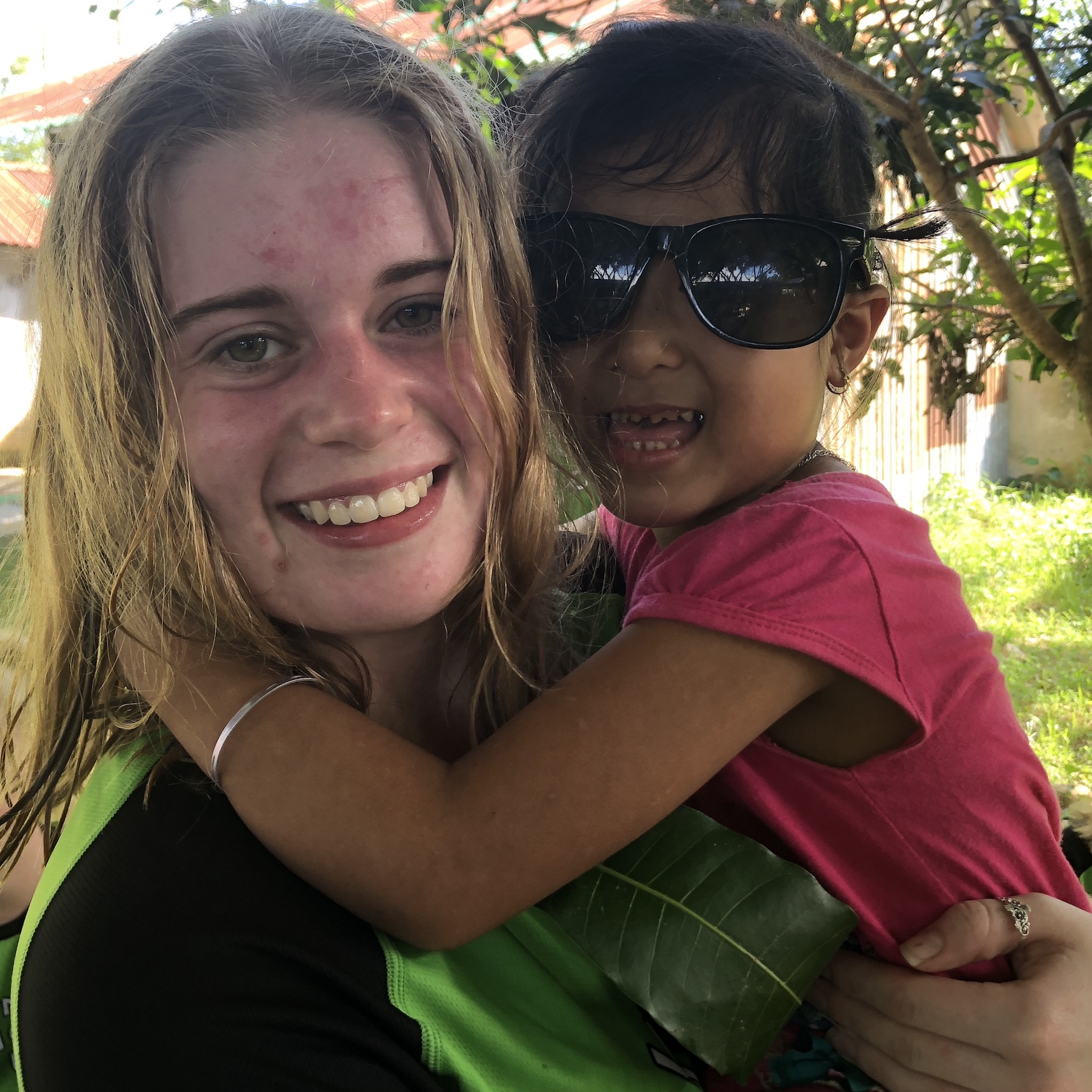 Rebecca P
My time in Vietnam was one of the best experiences of my life.
Travelled to Vietnam in October 2018
My time in Vietnam was one of the best experiences of my life. It taught me so many valuable lessons, gave me more independence and allowed me to experience things that I never had before in Australia.
I enjoyed meeting with kids at the school and donating money that we fundraised as it made me feel like I had made a small impact on other peoples lives.
I believe that this trip is a perfect balance of educational and fun as I found I enjoyed all of the trip and now hold so many amazing memories with my friends and people I got to know in Vietnam. One of my favoutite days was the eco tours as we got a much bigger insight into the true Vietnam and I thoroughly enjoyed the circular bamboo boats.
Vietnam is different to Australia in every way and I think Vietnam School Tours perfectly depicted the different culture and conditions faced in Vietnam. It truly did open my eyes to what other people in the world deal with everyday for basic life necessities, to give their families an education and the hard labor people have to do.
I would highly recommend this trip to any and everyone as I do not think I will ever forget this amazing experience and it truly did make me view the world in a different way.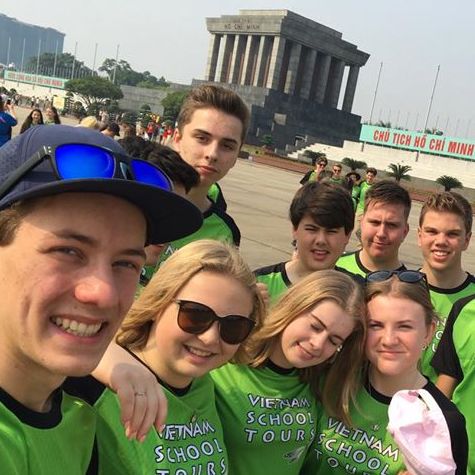 Will B.
I will always hold Vietnam, its culture and people in a special place in my heart
Travelled to Vietnam in October 2018
My time in Vietnam has been the most amazing experience, it definitely was a trip of a lifetime. From the very first day, to the day we left I enjoyed every single part of the trip. I was lucky enough to come on this trip with 25 other students and 5 amazing teachers to share this amazing journey.

Everything that I witnessed on this trip was definitely eye opening, it was great to be able to experience a different culture, along with its foods and the lifestyle of Vietnam.

My favourite part of this journey was the school trip in Hue where we went into the mountains to support a Catholic school in need by helping them in the construction of their toilets and by donating $1200. This part of the trip was truly eye opening. It took me by surprise to see how happy the students and staff were even though they were surrounded by poverty. I truly loved seeing the kids smile as we talked to them, played with them and helped them out. This feeling is something I will hold close to my heart and is definitely a moment that I will never forget.

Our tour guide, Dao, made the experience even better with his knowledge on every location we visited and his deep connection with many places. He had a great sense of humor and for me he made my trip in Vietnam a trip I will never forget. I am extremely honoured to have been given this opportunity and I will always hold Vietnam, its culture and people in a special place in my heart.

Thank you Tram and it was an honour to meet you.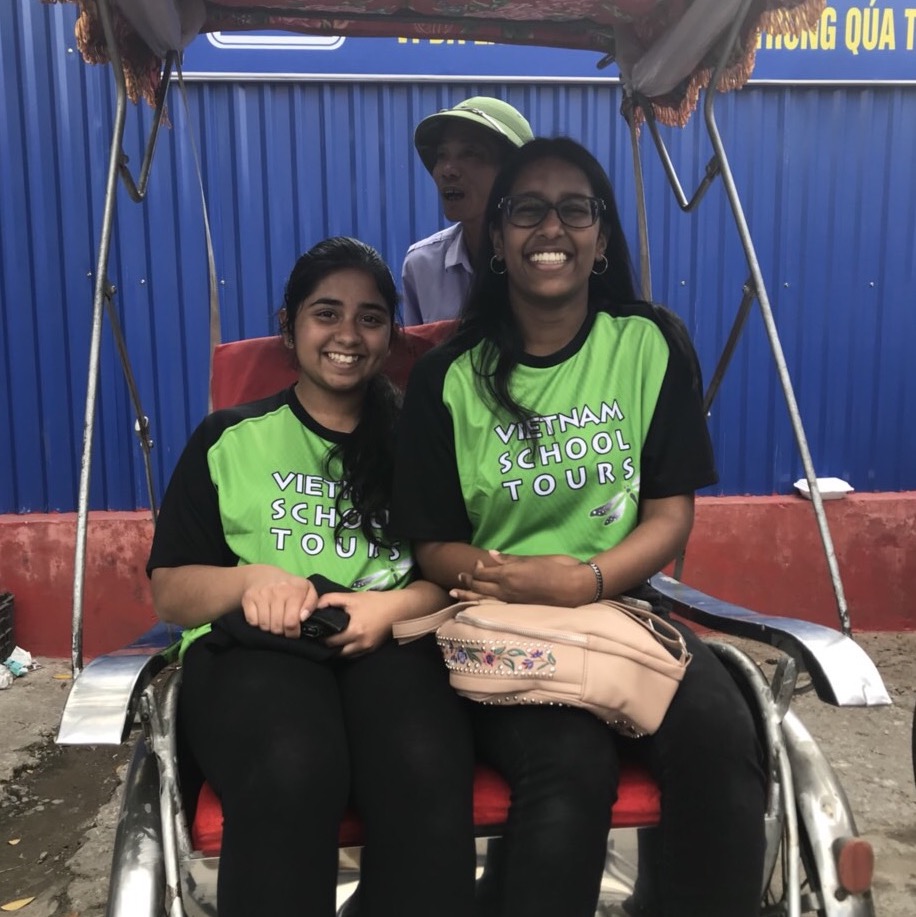 Tina T.
I was able to experience this country, with its rich culture and unique history
Travelled to Vietnam in September 2018
My time in Vietnam has been incredible. I was able to experience this country, with its rich culture and unique history, in a way that was authentic and truly inspiring with numerous visits to various museums, such as the War Remnants Museum, we were able to gain a meaningful insight into the lives of those residing in Vietnam during the Vietnam/American War, as well as some issues stemming from this event that are on going and prevalent in contemporary society, it was highly relevant and useful for us students.

This understanding of the war was heightened when we talked to war veterans, who shared personal anecdotes and opinions of pressing concerns at the time, also enabling us to form an emotional connection with this war of which Australia also played a role.

The food was amazing, everyone enjoyed trying the local cuisine although nearing the end of the trip, we started to crave food from back home :) The cyclo tours were also a unique way of experiencing the lifestyle and a traffic of Vietnam. Our time at Halong Bay was amazing. The scenery was gorgeous and the activities such as kayaking were another way of enjoying the beauty of the place.


Another aspect of the trip that I found to be inspiring was the trip to the centre for children with disabilities. It allowed us to recognise the presence and importance of issues in reality, some of which we would never encounter in our privileged life in Australia, allowing us to be more open-minded and accepting. It also fosters and ignites a mindset based on helping others in need.

The tour guides, who we got very close to shared how this trip positively affected their lives, which also filled me with happiness, as this trip itself was helping the local Vietnamese community achieve their goals and allows for a better way or standard of living.

I loved every aspeet of this trip and I thank anyone and everyone who helped make this trip possible. It really did open our eyes and change our lives.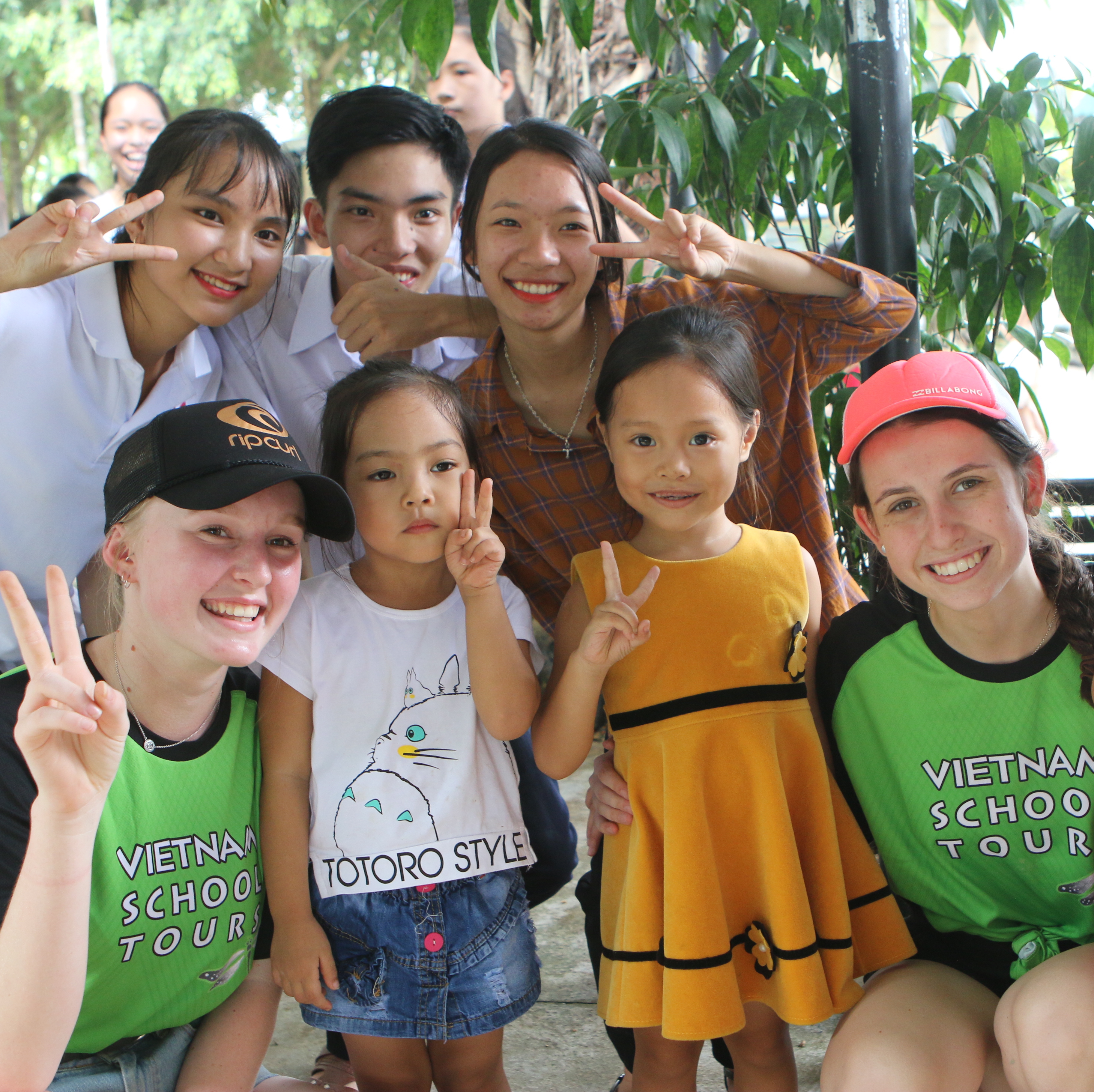 Alysha T.
These experiences make you a more worldly person.
Travelled Vietnam in September 2018

My time in Vietnam has been so truly amazing and eye opening. There has been so much to love about this trip, there was never a dull moment. I have learnt so much about the people and culture in Vietnam and these experiences wihch make you a more worldly person.

I particularly enjoyed visiting and playing with the children. They were all so beautiful, bubbly and happy. I think the children really impacted my time in Vietnam as they are all so happy and eager to learn even though they are not as well off or given as many opportunities as people from our country. The experiences with the children really opened my eyes to see it is the simple things in life that really matter.

I loved all the "firsts" throughout the trip too. First time eating a range of different foods such as octopus, goat and dragon fruit. I also had my first go at bartering. There were so many first experiences on this trip and so many amazing memories that I could never forget! I have learnt so many new skills and this trip has definitely opened my eyes and changed my life.